Just because they do, doesn't mean you should.

Happy Music Monday! Marty Robbins is one of those musicians who keeps flipping back and forth between "old people music" and "cool" with each new generation. Right now, of course, he's smoking hot. But even if he falls from grace, don't worry. He'll be rediscovered again and again. His stuff is just too good! Which Scott is about to prove to you.
Without a doubt, Marty Robbins is best known for the songs on this cowboy album. And they're great. My vinyl copy is one of my prize possessions. But that's not all Marty Robbins is known for. He pretty much has a song for every occasion.
And we'll prove it! Let's go!

Happy Music Monday! If you've ever listened to something that sounded like country and rock at the same time, you possibly owe a debt to Gram Parsons. His name doesn't often come up these days, but those who love him always love him, and those who don't are often convinced to start. Scott's got five songs selected from Gram's career. Enjoy.
The International Submarine Band - I Must Be Somebody Else You've Known
Gram Parsons passed away on September 19th, 1973 of an overdose of morphine. His road manager stole his body and set it on fire in a national park. The cops showed up before the burning was done and the manager had to give the body back to the family. That's the kind of death most rock stars only dream about.
And that's just how we START! More to come...

Happy Music Monday! For some reason, there are like a billion songs all about teenagers who die in car crashes. Once you start really digging into the genre it's kinda weird. So, of course, Scott's spending another Monday doing some digging. Join in! And, um, wear your seatbelt.
I don't wanna say this song started the car crash craze, but it was certainly one of the earlier ones. And it sort of makes sense when you think about it. The idea of a teenager was sorta new in the 1950s, and certainly the post-war teens were the first generation to drive themselves to high school regularly. That mix of youth and rebellion led to accidents, accidents made the paper, and, well, we got some songs. And not just one song. Many songs. Many many many songs.
More crashes coming up. Drive safe, kids.
Focus your mind. Let us reveal your future together.

Happy Music Monday! There are a lot of different topics in the world, but music keeps coming back to a few over and over again. Today Scott's found five songs that all share the same title, but take a drastically different approach to execution. Check 'em out. You've probably heard a few.
The Smithereens - A Girl Like You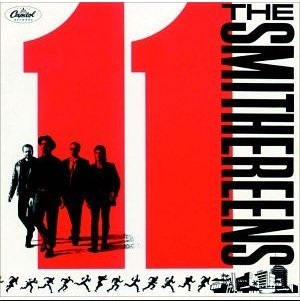 There isn't a lot to say today, because it's really the music that's doing the talking. So I encourage you to listen to all the songs and enjoy how they change. Obviously, we start here with a power-pop hit. So catchy!

Happy Music Monday! Today we celebrate all those songs that we're amazed ever existed! Who knew so many different bands recorded together in secret? Here's a great example of what we mean right now:
Alice Cooper and Body Count - Law & Order
Ice T's rock band still tours even today, mixing street smarts with metal strings. The horror-rock pioneer was a perfect fit for their unusual style. I personally missed a chance to see this when I was in college, and I kinda regret it now.
Four more to come! And then a few words at the end, of course. Maybe you've already guessed what they'll be.
Focus your mind. Let us reveal your future together.

Happy Music Monday!
John Lee Hooker - Burning Hell
A lot of rock was born from John Lee Hooker's fingers. A lot of credit was also stolen from him at the beginning. Thankfully, today we are aware what a debt we owe this blues legend. Give him a Happy Birthday in honor of what he gave us. Which is most of rock.
Four more birthday types to come!