Hey, guess what? Our little site keeps getting better, and as part of that process, we sometimes have to make some small changes. This time it's to the way you log into your Woot account. It's such a small change you'll barely even feel it, so we wanted to tell you anyway. Ready? Here's the big change: now you'll have to log in with your email address. Yeah, we know. It's barely worth noting, right? So don't panic, your user name isn't going anywhere. It's just a little thing we did for security reasons to keep you even safer.
Now, instead of logging in like this: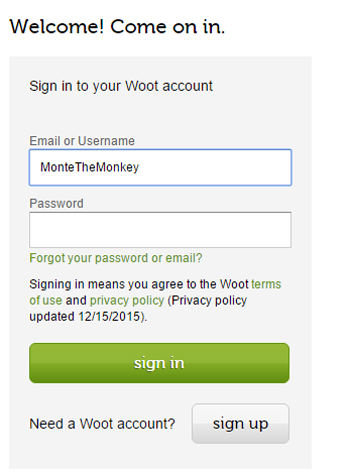 You'll be logging in like this:
Simple? Easy? YES! So keep it in mind: starting right now, you'll log in with your email. Give it a shot, then race to the forums to say WOO HOO I DID IT or I DID IT... BUT I'M NOT HAPPY I DID or some shade of grey between the two. And if you've got questions, ask away! Maybe one of our mods will notice and have an answer for you! Oh, yeah, and we updated this blog post on 2/18, just in case you noticed it changed. Basically we just took out the original deadline because we passed it. No turning back, friends! We're in this together!
(PS: please don't try to email Monte, he's very busy and will never check it.)