Oh, no! That thing we had here sold out ! So out of our desperate attempt to be rich love for giving you options, we've added a bonus sale for today. Consider it a gift to us from your wallet to all of you who were hoping for something like this. This is your chance to help us look good to our bosses get a little something for yourself, okay? Thank you You're welcome.
The only ones not having fun will be the microbes
Bissell's Symphony is the composer's finest work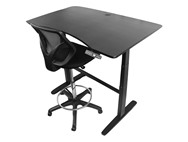 Your boss wants you to do a stand-up job. This desk makes it easy.
Truly wireless? Then what's inside them?
Lotta great movies you could be watching outside this summer! WHY NOT BUY A SCREEN
Television for Dads! Television for Grads! Also lads, cads, and mad sad Chads.
Call him... Judge Tread.