Happy Music Monday! In the never ending attempt to make 2016's death band the greatest in history, another huge talent has passed. It's possible you've never heard of Gato Barbieri, but it's very likely you've heard him, or at least felt his influence in some other song. Today we're gonna jazz it up and pay tribute. Enjoy.
Gato Barbieri & Santana - Europa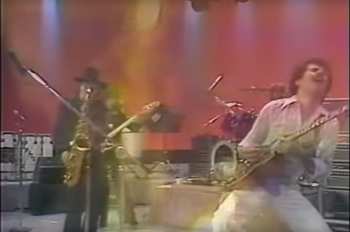 Barbieri was from Argentina, and by the time he was doing stuff like this, was very well established. He'd played with jazz bands, he'd played with partners, and he'd been a solo artist on some artistic avant-garde labels. He was even the inspiration for the Muppet Zoot (the sax player with the Electric Mayhem) if that tells you how important Barbieri was to the counter-culture scene. But I accept that not everyone gives a damn about ESP and the Flying Dutchman labels, so I'm starting with this Santana duet. Because, ultimately, it's just as good as the rest of Barbieri's catalog and it helps you understand how a guy you might not have heard of could still be hanging out right next to a famous rock star.
Scott only learned that tidbit about Zoot while preparing this tribute. Who knew? Four more to come...