We wondered about sloths! You can too!
HEY EVERYONE ARE YOU EXCITED TO GET STARTED?!?!!?
Ok, well, I'm not gonna lie. I had some trouble finding good videos for you all this week. So here's a cat playing with a vacuum.
Yes seriously. Ten dollars.
This is the season of Hollywood's unrestrained id: the brainless summer blockbuster, the air-conditioned multiplex, the bottomless popcorn refills, the avalanche of kids emerging blinking into bright sunlight, waiting for their parental pickup. But August is also the anniversary of the movies themselves! It was on August 31, 1897 that Thomas Edison patented his first movie camera, the Kinetograph. In honor of 119 years of cinematic glitz and glamour, we've asked movie buff and Jeopardy! tough Ken Jennings to give us the "reel" truth on all kinds of old-movie misinformation.
The Debunker: What Kind Of Animal Roars At The Start Of The MGM Movies?
In 1924, theater magnate Marcus Loew merged his Metro Pictures with two other movie production companies belonging to Samuel Goldwyn and Louis B. Mayer. The result was Metro-Goldwyn-Mayer, the biggest and most legendary star factory of the Hollywood "studio era." MGM's marketing genius was a man named Howard Dietz, who had been Sam Goldwyn's director of publicity and advertising. Dietz was an alumnus of Columbia University, and adapted the Columbia lion mascot into Leo the Lion, who's now been roaring away for almost a century at the start of MGM movies, from Ben-Hur to Spectre.

Happy Music Monday! A good ol' fashioned beach party is a summer tradition. It doesn't even matter if you're in a landlocked state. Find some sand, pour out some water near it, and you've got all you need to beach party the day away while blasting all these tunes! Come on, every body! Let's make it happne!
The Jamies - Summertime, Summertime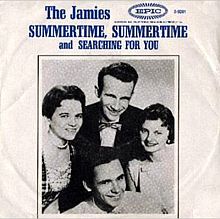 This lovely song is structured like a hymn. And in a way, it is! What kid doesn't know the feelings of finally reaching summer and having nothing to do for three whole months? If that's not a religious experience I don't know what is.
More beach party to come! Stay away from the undertow!