*Tom Jones voice* HelloooooOOOOOOOOOOOOoooooooooOOOOOOOOOO!
Hey, if you're a Tom Jones fan you should listen to this. Also, if you're not a Tom Jones fan you should listen to this. Seriously, listen to this.
Hi! My name is Scott, and I've been a D.R. Who fan for over twenty years! I've designed a short quiz as an attempt to make you a better D.R. Who fan like me. As with all D.R. Who-related quizzes, there's no pressure here, but if you get even one question wrong, you have to stop watching the show forever. Okay? Okay! So let's go!
QUIZ QUESTION ONE: What one thing do all the greatest D.R. Who villains have in common?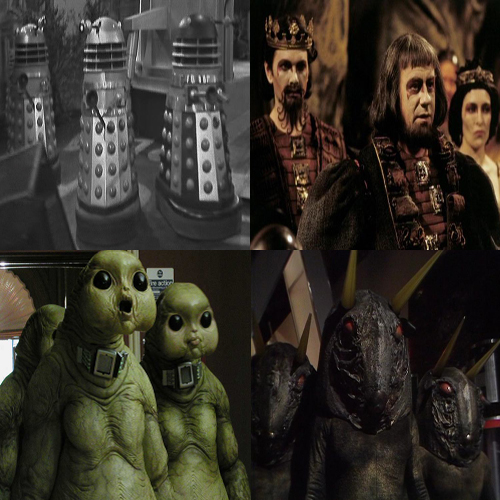 That's right! All D.R. Who villains stay on the left of the screen in a group of three! This is a fast way for you, the viewer, to tell which characters are truly cool. If they're not in a group of three, or they appear on the right of the screen, pay them no mind. That's just the producers way of saying "Hey, we made these characters in a rush and they don't count." But that was an easy one. Get ready for Question Two...

Happy Music Monday! The truth is, we've all laughed at a dirty joke at least once. Today Scott's gathered a variety of songs based on off-color humor. Offensive? Maybe. Exciting? Absolutely.
NSFW Mighty Sparrow - Castro Eating A Banana
If you can't make out the lyrics behind the fun fun music, here's the summary: a woman tries to stop children from looking at a photo of Fidel Castro eating a banana because she thinks it's pornography. That's the level of humor we're gonna explore today. More inside.
See you after the jump, if you care to debase yourself with us.