Apple MD528LL/A 16GB iPad mini with Wi-Fi - Black
Limit 1 per customer
Hurry only 1 left!
add to cart
Here's a silly way to shop
Have you ever eaten at a sushi place with one of those conveyer belts? The Woot-Off is sort of like that, except instead of sushi you're grabbing TVs, there is a slightly smaller chance of contracting giardia, and we won't berate you about eating all the rice.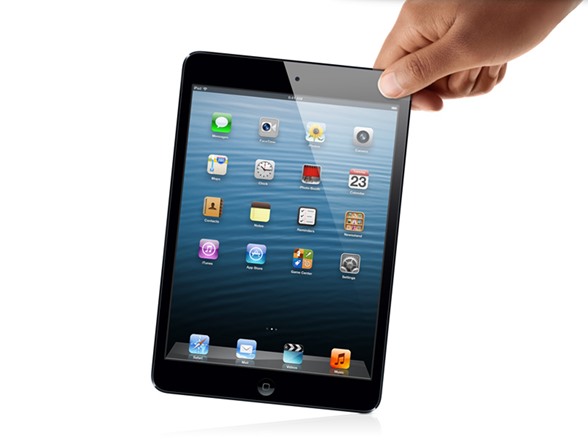 Features
2-year protection plan: $64.99
Buy Now
The whole package. In a smaller package
A beautiful display, powerful A5 chip, FaceTime HD camera, iSight camera with 1080p HD video recording, ultrafast wireless, and over 375,000 apps ready to download from the App Store. iPad mini is an iPad in every way, shape, and slightly smaller form.
Perfectly sized LED-backlit display
iPad mini makes one thing clear: Its 7.9‑inch display more than measures up to the complete iPad experience. View web pages in Safari. See where you are and what's around you using Maps. Flick through your photos and watch videos in vivid detail. And wave hello to the family on a FaceTime call. The iPad mini display uses the same LED backlight technology as iPad to give you plenty of pop per square inch. And it's perfectly sized to work with hundreds of thousands of apps made for iPad.
Thin and light design
iPad mini has everything that makes an iPad an iPad, but it's a fraction of the size. At just 7.2 millimeters, it's pencil thin and unbelievably light.3 You can easily hold it in your palm. And stash it in your smallest bag without a second thought, so it's always close at hand.
Built-in apps
Right out of the box, iPad mini is ready for big things. Map out your next adventure. Then shoot it in 1080p HD. Ask Siri to help you find the best pizza in town. Watch a webcast or a movie. Read a best seller or a magazine. Check email. Send messages. Or stay in touch face-to-face over FaceTime. You'll be amazed at how much is built right in.
Powerful A5 chip
iPad is known for its fast, fluid performance, and iPad mini doesn't disappoint. It features the powerful and power-efficient A5 chip, which makes everything you do feel smooth and natural. From the little things like switching from app to app and swiping from page to page, to the big things like editing photos, watching movies, and playing games.
10-hour battery life
iPad mini wouldn't be an iPad without incredible battery life. Even with so much performance packed into such a small space, it still lasts up to 10 hours on a single charge.5 So you can read, watch, play, write, and create whatever you want, as long as you want.
Record HD video in full 1080p
An impromptu performance on the subway, the winning shot at your daughter's soccer game, an awesome 360-degree view from the top of the mountain — the iSight camera on iPad mini lets you capture all these unpredictable, beautiful, spectacular moments. In 1080p HD, no less. The spacious iPad mini display gives you a great view of whatever you're filming. And with automatic video stabilization, your recording is free of bumps and shakes. So your videos are instantly ready to share.
Shoot 5‑megapixel still images
The 5‑megapixel iSight camera features a backside illumination sensor that captures great-looking pictures whether by sunlight or candlelight. When you shoot photos, the big, beautiful iPad mini display becomes a big, beautiful viewfinder — giving you plenty of room to compose your shot. Autofocus, tap to focus, and tap to set exposure functions mean every photo you take instantly becomes frameworthy. And with built-in face detection that automatically balances focus and exposure across up to 10 faces, there's more room for more grins. So everyone look at iPad mini and say "Cheese."

Shipping Note: Eligible for shipping to all 50 states
Warranty: 1 Year Apple
Specs
Specifications:
Screen Size:
7.9‑inch (diagonal) LED-backlit Multi‑Touch display with IPS technology
Screen Resolution:
1024-by-768 resolution at 163 pixels per inch (ppi)
Processor:
2.4 GHz Apple Dual-Core A5
RAM:
1 GB SDRAM
Internal Storage:
16 GB
Wireless Type:
802.11a/b/g/n Wi‑Fi (802.11n 2.4GHz and 5GHz)
Bluetooth:
Bluetooth 4.0 wireless technology
Average Battery Life (in hours):
10 hours
Flash Memory Size:
16 GB
Audio-out Ports (#):
1
Power Source:
Battery
Battery:
Built-in 16.3-watt-hour rechargeable lithium-polymer battery
Item Weight:
0.68 pound (308 g)
Item Dimensions L x W x H:
0.28 x 5.3 x 7.87 inches
In the box:
Apple MD528LL/A 16GB iPad mini with Wi-Fi - Black
Apple 8-Pin Lightning to USB Cable
USB Power Adapter
Top Comments
What are Top Comments?
Top Comments are discussion forum posts we have deemed worthy of your time. Listen, we get a lot of comments, and most of the time, it's pretty forgettable stuff; but sometimes you rise to the top like butterfat in milk. We don't recommend you base your self-worth on how often we feature your comments, but we don't expressly forbid it either.
join the discussion (6 comments)