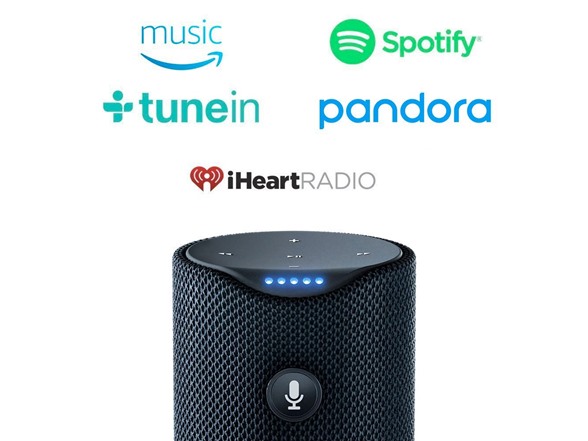 Features
Just tap and ask for music from Amazon Music, Spotify, Pandora, iHeartRadio, and TuneIn
Uses the Alexa Voice Service when connected to Wi-Fi or a mobile hotspot to play music, read the news, provide weather reports, and even order a pizza
Streams all your music via Bluetooth from your phone or tablet
Delivers crisp sound powered by Dolby, with dual stereo speakers that provide 360º omni-directional audio
Provides up to 9 hours of playback
Always getting smarter and adding new features and skills
Amazon Tap is a portable Bluetooth and Wi-Fi enabled speaker that gives you rich, full-range sound. Just tap the microphone button and ask for music, hear news, search for information, order a pizza, and more with the Alexa Voice Service.
Discover and enjoy music, all in one place with Amazon Music—just tap the microphone button and ask for your favorite artist or song, or request a specific genre or mood. You can also search for music by lyrics, when a song or album was released, or let Alexa pick the music for you. Listen to any song with Amazon Music Unlimited.
Stream directly over Wi-Fi from Amazon Music, Spotify, Pandora, TuneIn, iHeartRadio, and more. You can also connect via Bluetooth to your music—including iTunes. When on the go, streaming music is just as easy using your phone or other mobile device's hotspot.
Dual stereo speakers with Dolby processing for crisp vocals and extended bass response. Amazon Tap provides 360° omni-directional audio. Small and easy to travel with, you can enjoy great music and Alexa wherever you are.
When connected to Wi-Fi you can access Alexa, a cloud-based voice service that is always getting smarter. Just tap the microphone button and ask to hear news, set a timer, get the weather, and more. New skills are continually added—such as ordering a pizza from Domino's, opening your garage with Garageio, and requesting a ride from Uber.
You can also see ratings and reviews to learn what other customers are saying about the thousands of skills available in the Alexa App.
Whether you're heading to a party or pedaling to the park, Amazon Tap's compact size makes it easy to move around. And at just over a pound, it's perfectly portable. Just throw it in your backpack or, with the optional carrying sling, clip it to your bag and get going.
A single battery charge provides up to 9 hours of continuous playback to keep you entertained—wherever you are. The included Charging Cradle makes recharging effortless, even while listening. And when Amazon Tap's battery is low Alexa will say "Just so you know, the battery is currently low."
These are listed as "Refurbished". These units will have minor cosmetic blemishes and have been returned, inspected, and restored to fully working condition by an Amazon technician. The units may have been repackaged in a brown box.
Specs
Size
Amazon Tap: 6.3" x 2.6" x 2.6" (159 mm x 66 mm x 66 mm); Charging Cradle: 0.6" x 2.6" x 2.6" (15 mm x 66 mm x 66 mm)
Weight
Amazon Tap: 16.6 oz. (470 grams); Charging Cradle: 3.8 oz. (109 grams)


Actual size and weight may vary by manufacturing process

Battery Life
Up to 9 hours of continuous playback. Battery life will vary based on device settings, usage, and environmental factors. Actual results may vary.
Wi-Fi Connectivity
Supports public and private Wi-Fi networks or mobile hotspots that use the 802.11b, 802.11g, or 802.11n standard with support for WEP, WPA, and WPA2 security using password authentication. Supports 2.4 GHz wireless band only. Learn more.
Bluetooth Connectivity
Advanced Audio Distribution Profile (A2DP) support for audio streaming from your mobile device to Amazon Tap. Audio/Video Remote Control Profile (AVRCP) for voice control of connected mobile devices. Media control over AVRCP is not supported for Mac OS X devices.
Audio
Dual 1.5-inch drivers and dual passive radiators for bass extension
System Requirements
Amazon Tap comes ready to connect to your Wi-Fi. The Alexa App is compatible with Fire OS, Android, and iOS devices and also accessible via your web browser. Certain skills and services may require subscription or other fees. When tethering to a mobile device hotspot, standard data rates may apply.
Included in the Box
Amazon Tap, Charging Cradle, microUSB cable and adapter