AT-A-GLANCE Academic Weekly / Monthly Appointment Book / Planner
Limit 3 per customer
Hurry only 1 left!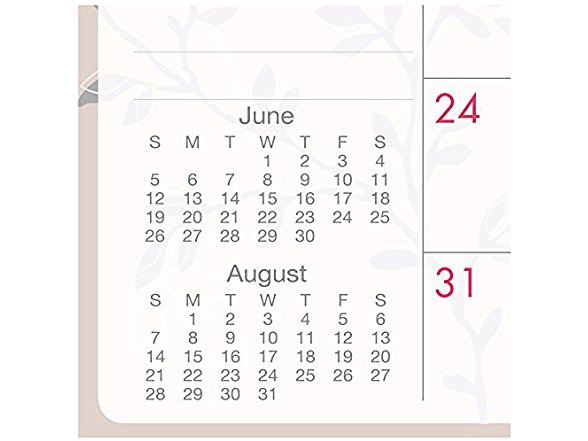 Features
Pop Robin nature inspired design with gray and pink colors adds beautiful styling to this appointment book / planner. Covers a 12 month academic date range from July - June. Julian dates. Perfect for all professionals.
One week per two page spread features a column-style layout. Includes hourly appointment times from 7:00 a.m. - 8:00 p.m., Monday - Friday. Weekends are untimed for more leisurely planning.
One month per two page spreads are tabbed for Easy navigation to any date. Ruled daily blocks are large, measuring 1.19 in. X 1.75 in., to provide plenty of room to jot down notes and reminders on key dates. 8.5 x 11 inch page size.
Listen up!

We found this killer deal lying around, and wanted to get it up on our site—and into your greedy hands—as soon as we could. So we skipped some of the details. If you need more info for an "informed purchase decision" why don't you check similar listings on other sites? Maybe use one of those internet search tools like "Floogle" or whatever…
Specs
Specifications
Length:
11.25 inches
Width:
0.63 inches
Height:
9.13 inches
Specs
Specifications
Length:
11.25 inches
Width:
0.63 inches
Height:
9.13 inches
Top Comments
What are Top Comments?
Top Comments are discussion forum posts we have deemed worthy of your time. Listen, we get a lot of comments, and most of the time, it's pretty forgettable stuff; but sometimes you rise to the top like butterfat in milk. We don't recommend you base your self-worth on how often we feature your comments, but we don't expressly forbid it either.
join the discussion (3 comments)
Best sellers
Deals our customers love best.