Gustus Vitae Spices Collection
Limit 10 per customer
Hurry only 1 left!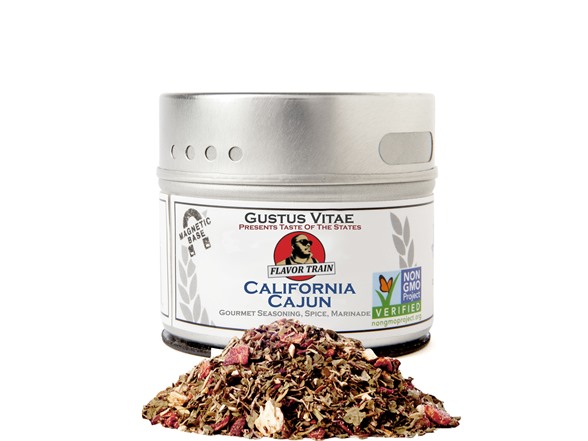 Features
Visit their Website: Gustus Vitae
We've teamed up some of the best BBQers, grillers, bakers, cooks, caterers and home chefs to collaborate and create 10 unique, exclusive seasonings, sea salts, and spice blends. This complete 10 pack contains each one of the Taste Of The States summer series, a deliciously diverse set of seasonings that transform ordinary plates into signature dishes. From can't-miss Sunday BBQs, to easy weeknight meals, to those special dinners where everyone asks what you secret ingredient is; we've got you covered. There's a lot to unpack here, and there's no better time to warm up the oven or crank up the grill then now.
Collection Includes:
All Season Truffle Rub
All American Country BBQ
Baja Prime Cut
Blue Cheese Honey Mustard Rub
California Cajun
California Rich Red Steak Rub
Chuck's Dust: Smoked Everything Savory Sea Salt
Habanero Garlic Lover Spice
Old Country Euro Steak, Sausage, & Sides
Smoky Lonestar Spice
About Gustus Vitae Products:
Magnetized backing: tins sticks to your fridge or other metal surface.
Certified Non-GMO.
Crafted in small batches.
Hand packed in California from local and imported ingredients.
Not irradiated or treated with EtO gas.
All natural: free from artificial colors and flavors.
No nuts, soy, dairy, sugar, or gluten.
All Season Truffle Rub
Truffle season in Italy runs from October - April. Truffle season at Gustus Vitae runs 24/7, 365. We can't get enough, and we've been using our latest creation almost daily - All Season Truffle Rub. Never advocates for moderation, this decadent gourmet seasoning is the perfect way to celebrate our favorite fungus, and this rub is something that we've been using on everything. Bursting with rich truffle flavor all the way through, this artisan rub is the perfect flavor accelerator on foods ranging from steaks to sides to sauces. We use All Season Truffle Rub twice in our cooking - once as a rub or marinade before cooking, and once more for a fancy, chef-y, sprinkle just before service. Delizioso!
All Season Truffle Seasoning Ingredients: Rub and Marinade Garlic, Crushed Black Pepper, Coriander Seed, Dried Chili Peppers, Sea Salt, Paprika, Truffle, Savory, Thyme, Rosemary, Lavender, Fennel.
All American Country BBQ
We're an unabashedly American company - we source local, we hire local, and we're proud of the products we make. It's hard to think of something more American than enjoying a BBQ with friends after a long work week, and this gourmet seasoning is a salute to that most delicious of American traditions. Whether you're just marinating some steaks before grilling them, building veggie skewers, or seasoning your corn before tossing 'em on the BBQ, our All American Country BBQ Seasoning is just the ticket for making mealtime memories.
All American BBQ Ingredients: California Sea Salt, Brown Mustard Seed, Ancho Chili, Thyme, Garlic, Rosemary, Sage, Bay Leaves, Vinegar Powder (Maltodextrin, White Distilled Vinegar), Paprika, Spices, Citric Acid, Natural Flavor.
Baja Prime Cut
Living in SoCal, our food & culture is deeply steeped in Mexico's Baja cuisine. Fresh, bright flavors dominate without overpowering, highlighting a cuisine that spans it all - from just-landed fish, to sizzling steaks, to fresh organic salads, we're spoilt at every meal. So how to improve on the already excellent? We teamed up with Ivan of Boulevard Street Food to create a unique seasoning that accelerates and enhances your cooking without overpowering. Whether you're tossing a nice cut of beef on the BBQ, whipping up a layered overnight ceviche, or searing octopus, Baja Prime Cut is built to get the most out of your cooking. Our favorite? Mix with some mayo and ricotta for a unique, delicious take on elotes - the ubiquitous Mexican grilled corn that's a SoCal staple.
Baja Prime Ingredients: Onion Powder, Garlic Powder, Sugar, Celery Seed Powder, Salt, Black Pepper Ground,Arrowroot Powder, Chile Pepper, Cumin, Oregano, Cayenne Pepper and Crushed Red Pepper.
Blue Cheese Honey Mustard Rub
Our Blue Cheese Honey Mustard Rub is comin' straight outta Wisconsin and taking no prisoners. Rich, all natural blue cheese hits you right from the beginning, with layers of sweet honey adding depth and tart dijon mustard rounding out the flavor profile. This gourmet seasoning is a show stopper: unapologetically, deliciously bold. We love using this seasoning to liven up steaks, add deeply satisfying flavor to burger patties, and season grilled veggies. It's also perfect for making a mouthwatering, near-instant sauce: just mix with some sour cream and serve with veggies or fries.
Blue Cheese Honey Mustard Rub Ingredients: California Sea Salt, Dijon Mustard (Distilled Vinegar, Salt, Acid, Spices), Maltodextrin, Food Starch, Natural Flavor, Crystallized Honey, Blue Cheese (Milk, Salt, Cultures, Enzymes), Disodium Phosphate, Garlic Powder, Black Pepper, Salt, Oregano, Lemon Oil, Marjoram.
California Cajun
We've teamed up with C Train to create a whole new culinary genre: California Cajun. Using only the best in local, all natural, sustainably sourced ingredients, this gourmet seasoning is the fusion you didn't know you loved until you try it. Honoring SoCal's fresh bounty with freshly dried cilantro and thyme, we kick up the heat with 2 types of crushed peppers, and create our very on Cali-Cajun Mirepoix Holy Trinity of sweet strawberries, celery, and onions. This gourmet spice blend is versatile enough to go from marinating pork chops, to sprinkling over a fresh garden salad, to making deliciously complex roasted veggies. We're still writing recipes for this new cuisine - more to come!
California Cajun Ingredients: Dried Strawberries, Lemon Peel, Thyme, Cilantro, Oregano, Black Pepper, Ground Celery Seed, Red Pepper, Paprika, Salt, Onion and Garlic, Caramel Sugar.
California Rich Red Steak Rub
Sometimes we like to dress up for a nice meal - something about making the extra effort makes a special occasion dinner even more exceptional. Our California Rich Red is built for those kind of meals - rich without being overpowering, bold without being overwhelming, decadent without being cloying. Crafted using the finest in all natural, local, sustainably sourced ingredients, California Rich Red is the seasoning to reach for when you're looking to impress. Good things take time, and this seasoning blend is made all the better with a bit of planning - rub your protein the day before, and give this delicious complex artisan spice blend the time it needs to flavor your steak all the way through.
California Rich Red Steak Rub Ingredients: Chili Peppers, Coriander, Paprika, Red Pepper, Dehydrated Garlic, Salt, Cinnamon, Caraway, Ginger, Sesame Seeds, Basil Leaves, Onion, Parsley Flakes, Celery Seed, Oregano, Lemon Peel Powder, Thyme, Dill Tips, Cane Sugar, Smoked Salt, Red Cayenne.
Chuck's Dust: Smoked Everything Savory Sea Salt
You asked for it, we teamed up with C Train and delivered. Chuck's Dust is here, and, dare we say it, it exceeds the already high expectations we had for this all purpose gourmet seasoning. Undeniably excellent on the BBQ, this artisan spice blend was built from the ground up to be versatile, ticking all the flavor boxes. Bit of heat? Check. Satisfyingly savory flavor? Check. Just the right balance of smoky and herbaceous? Check. We could go on, but tasting is believing. Enjoy this gourmet sea salt on everything from Saturday's steaks to Tuesday's tacos, and add a new weapon to your flavor arsenal.
Chuck's Dust Ingredients: Smoked Everything Savory Sea Salt Contains: Smoked Sea Salt, Rosemary, Ginger, Basil, Red Pepper, Cumin, Cardamom, Black Pepper, Garlic, Onion, Red Bell Peppers, Cilantro, Turmeric Extract, Garlic Oil, Jalapeño.
Habanero Garlic Lover Spice
Want to get the most out of your grill? We've got your covered with our Habanero Garlic Lover Spice, guaranteed to banish bland food and vampires in equal measure. This is not a softly-softly, first-date seasoning. Nope, this is a full-on flavor blast that'll have you coming back for more. Made with all natural, local, sustainably sourced ingredients, this gourmet seasoning punches above it's weight, so judicious use of this spicy spice blend is recommended. We love using this on the grill but also in the kitchen - it's our go-to for adding garlicky heat to stirfrys and big omelets on the lazy Sunday mornings.
Habanero Garlic Lover Spice Ingredients: California Sea Salt, California Coarse Sea Salt, Garlic, Habaneros, Chipotle, Onion, Red Pepper Flakes, Red Cayenne, Cane Sugar.
Old Country Euro Steak, Sausage, & Sides
We've brought together Germany's Black Forrest & Italy's Amalfi Coast in this unique, all natural homage to the Old Country. Crafted using only the very best in local, sustainably sourced ingredients, this hybrid gourmet seasoning has been built from the ground up to be equal parts delicious and versatile. Whether you're adding depth to a classic German potato salad, stepping up your red sauce & meatball game, or making something in between, this artisan seasoning is just the ticket to transform a simple plate into a signature dish.
Old Country Euro Steak, Sausage, & Sides Ingredients: Sea Salt, Coarse Salt, Onion, Sugar, Dill Tips, Chives, Garlic, Basil, Chervil, Tarragon, White Pepper, Parsley, Coriander, Dill Seed, Rosemary, Thyme, Marjoram.
Smoky Lonestar Spice
From the great State of Texas comes Stacy Petty's Smoky Lonestar Spice, a uniquely delicious and versatile addition to the Taste of The States lineup. Built from the ground up for the grill with rich, smoky BBQ notes throughout, this gourmet seasoning is tempered with a sprinkling of artisan coconut sugar for sweetness, contrasting the heat from the chipotle and crushed red peppers. We love this spice blend for marinating proteins or rubbing on meats before a low & slow smoke, and it's great for veggies too: try sprinkling on loaded potatoes, seasoning sautéed broccoli, or for making a gorgeous compound butter to finish your steak with.
Smoky Lonestar Spice Ingredients: Onion, Sugar, Smoked Salt, Garlic, Paprika, Black Pepper, Ground Red Pepper, Paprika Extract and Natural Smoke, Coconut Sugar, Crystallized Honey, Chipotle.
Shipping Note: Shipping to Alaska, Hawaii, PO Boxes, and APO addresses is not available for this item
Legal Disclaimer: Statements regarding dietary supplements have not been evaluated by the FDA and are not intended to diagnose, treat, cure, or prevent any disease or health condition.
Specs
In the Box:
(1) Gustus Vitae Spices "Taste of the States" Collection, 10 Pack (2 ounces each)
Package Size: 2 ounces each
Best By: 07/03/2022
Specs
In the Box:
(1) Gustus Vitae Spices "Taste of the States" Collection, 10 Pack (2 ounces each)
Package Size: 2 ounces each
Best By: 07/03/2022
Sales Stats
Speed to First Woot:

8h 5m 34.225s
Purchaser Experience
0%

first woot

2%

second woot

15%

< 10 woots

15%

< 25 woots

67%

≥ 25 woots
Purchaser Seniority
0%

joined today

0%

one week old

0%

one month old

4%

one year old

96%

> one year old
Quantity Breakdown
93%

bought 1

7%

bought 2

0%

bought 3 or more
Percentage of Sales Per Hour
| | | | | | | | | | | | | | | | | | | | | | | | |
| --- | --- | --- | --- | --- | --- | --- | --- | --- | --- | --- | --- | --- | --- | --- | --- | --- | --- | --- | --- | --- | --- | --- | --- |
| | | | | | | | | | | | | | | | | | | | | | | | |
| 12 | 1 | 2 | 3 | 4 | 5 | 6 | 7 | 8 | 9 | 10 | 11 | 12 | 1 | 2 | 3 | 4 | 5 | 6 | 7 | 8 | 9 | 10 | 11 |
Percentage of Sales Per Day
| | | | | | | |
| --- | --- | --- | --- | --- | --- | --- |
| | | | | | | |
| Mon | Tue | Wed | Thu | Fri | Sat | Sun |
Woots by State
zero wooters wooting
lots of wooters wooting