HP ENVY 4500 e-All-In-One Wireless Printer
Limit 2 per customer
Hurry only 1 left!
There's A Reason There Ain't A NaNoPubMo
Hey, you better get this before National Novel Writing Month in the fall!
Oh, sorry, did we say National Novel Writing Month? We meant "Plan To Write What's Probably A Sci-Fi Novel But Instead Give Up On The Second Weekend After Being Several Thousand Words Behind Month" instead. But, hey, maybe THIS year will be different, right? And when it IS different, you can print your 40,000 word masterpiece about flying cat gladiators in the 86th century on this great new HP Printer! Why, can't you imagine how happy the publishers will be to FINALLY have someone pass them a manuscript that answers the question "What would happen if a Time Lord also owned a light saber in the Matrix?"
Alternatively, maybe you, Small Publisher, would also like an HP Printer like this to help you out around the office. It'll sure beat having to write all those rejection letters by hand.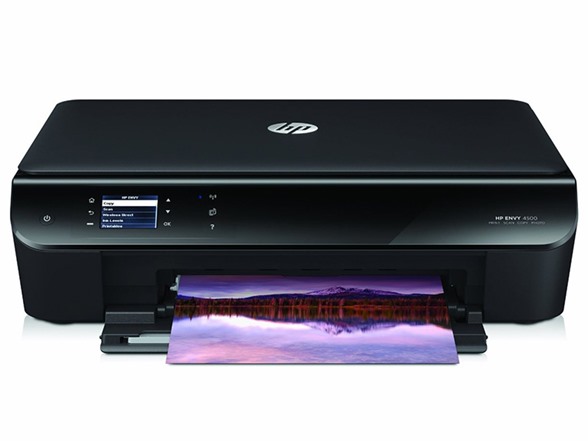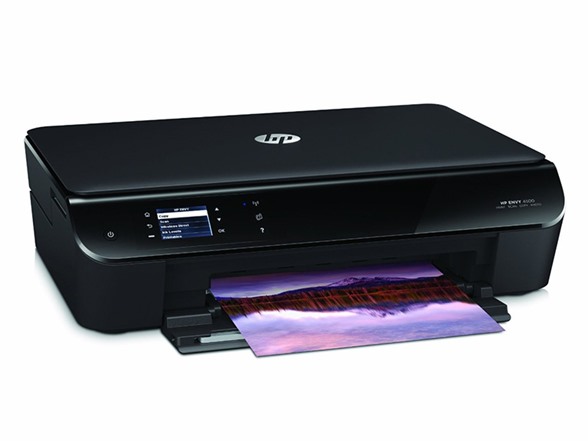 Features
This e-all-in-one offers affordable printing from virtually anywhere. Produce borderless, lab-quality photos and laser-sharp documents from your smartphone, tablet, and Internet-connected PC.
Tackle any task
Create a reaction with every page—easily produce borderless, lab-quality photos and laser-sharp documents
No need to wait—print wirelessly right away with painless setup
Inspire life with every print—HP Printables deliver news, fun, and savings directly to your printer
Print wirelessly from virtually anywhere
Print from virtually anywhere—print wirelessly from your smartphone, tablet and Internet-connected PC
Always have your printer on hand—scan directly to your mobile device with the HP Printer Control app
Conserve resources without slowing down
Both sides of savings—save time and paper with automatic two-sided printing.
Full of value! Print more for less with high-capacity cartridges (not included) or enroll in HP Instant Ink—an ink replacement service that can save you up to 50%. Learn more.
Designed to conserve—save energy, using a printer that's ENERGY STAR® qualified
Small effort, big impact. Count on easy, free cartridge recycling through HP Planet Partners
Note: Printers come with HP Recertified Ink Cartridges
Shipping Note: Shipping to Alaska and Hawaii is not available for this item
A physical address is required for delivery. No Military or PO Box shipments available
Warranty: 90 Day HP
Specs
Specifications:
AIO Functions:
Print, scan, copy, photo
Print Technology:
HP Thermal Inkjet
Standard Printer Languages:
HP PCL 3 GUI
Print Speed:
ISO Speed: Up to 8.8 ppm black, Up to 5.2 ppm color;
Draft Speed: Up to 21 ppm black, Up to 17 ppm color
Print Resolution:
Black (Best): Up to 1200 x 600 rendered dpi (when printing from a
computer);
Color (Best): Up to 4800 x 1200 optimized dpi color (when printing
from a computer on selected HP photo papers and 1200 input dpi)
Mobile Printing Capability:
Features wireless direct and local Wi-Fi connectivity to enable mobile printing via HP ePrint, Apple AirPrint™ as well as other solutions. Supports printing from most smartphones and tablets using these operating systems: Android, iOS, Blackberry, Symbian, Windows 8, Windows RT
HP Auto Wireless Connect:
Yes
Number of Print Cartridges:
2 (1 black, 1 Tri-color [cyan, magenta, yellow])
Compatible Ink Types:
Dye-based (color); Pigment-based (black)
Replacement Ink Cartridges:

HP 61 Black Ink Cartridge (190 pages)
HP 61 Tri-color Ink Cartridge (165 pages)
HP 61XL Black Ink Cartridge (480 pages)
HP 61XL Tri-color Ink Cartridge (330 pages).

Memory:
32MB DDR1
Processor Speed:
360MHz
Duplex Print Options:
Automatic (standard)
Borderless Printing:
Yes (up to 8.5 x 11 in, 216 x 297 mm)
Direct Print Supported:
Wireless direct printing
Duty Cycle (monthly):
Up to 1000 pages
RMPV:
Up to 300 to 400 pages
Scan Type:
Flatbed
Scan Technology:
Contact Image Sensor (CIS)
Scan Resolution:
Hardware: Up to 1200 x 2400 dpi
Optical: Up to 2400 x 2400 dpi
Scan Size Minimum:
8.5 x 11 in (216 x 297 mm)
Scan Input Modes:
Front-panel scan, front-panel copy, HP scan software
Scan File Format:
JPG, TIF, PDF, BMP, PNG
Twain Version:
Version 1.9
Bit Depth/Grayscale Levels:
24-bit/256
Copy Speed:
ISO Speeds: Up to 6 cpm black; Up to 4 cpm color
Normal Speeds (letter): Up to 6 cpm black; Up to 4 cpm color
Copy Resolution:
Black (Text and Graphics): Up to 600 x 600dpi
Color (Text and Graphics): Up to 600 x 1200 dpi
Max Number of Copies:
Up to 20 copies
Copier Reduce and Enlarge:
25 to 400%
Copier Settings:
Start Black Copy; Start Color Copy; Number of copies, 2-sided; Paper type; Resize; ID Card Copy; Lighter/Darker
Standard Connectivity:
USB 2.0, Wi-Fi 802 b/g/n
Wireless Capability:
Yes
Mobile Printing Capability:
Features wireless direct and local Wi-Fi connectivity to enable mobile printing via HP ePrint, Apple AirPrint™ as well as other solutions. Supports printing from most smartphones and tablets using these operating systems: Android, iOS, Blackberry, Symbian, Windows 8, Windows RT.
Digital Sending Standard Features:
Scan to email [via printer control app]; From software: Scan to file; Scan to email
Media Types Supported:
Paper (photo, inkjet, plain), envelopes, transparencies, labels, cards, the HP premium media, iron-on transfers, borderless media
Media Sizes Custom:
3 x 5 to 8.5 x 14 in
Media Weight Rec:
16 lb to 24 lb
Paper Handling:
Input capacity: Up to 100 sheets, Up to 100 sheets legal, Up to 40 cards, Up to 40 sheets transparencies, Up to 10 envelopes, Up to 30 sheets (4 x 6 Photo)
Output capacity: 30-sheet output tray, Up to 30 sheets legal, Up to 5 envelopes, Up to 10 sheets photo paper
Display:
2.0" (5-cm) Hi-Res Mono LCD
Compatible Operating Systems:
Windows 8, Windows 7, Windows Vista, Windows XP (Service Pack 3) or higher (32-bit only); Mac OS X v 10.6, v10.7, Lion, Mountain Lion
Minimum System Requirements:
PC: Windows 10, 8.1, 8, 7: 1 GHz 32-bit (x86) or 64-bit (x64) processor, 2 GB available hard disk space, CD-ROM/DVD drive or Internet connection, USB port, Internet Explorer. Windows Vista: 800 MHz 32-bit (x86) or 64-bit (x64) processor, 2 GB available hard disk space, CD-ROM/DVD drive or Internet connection, USB port, Internet Explorer. Windows XP SP3 or higher (32-bit only): any Intel® Pentium® II, Celeron® or 233 MHz compatible processor, 750 MB available hard disk space, CD-ROM/DVD drive or Internet connection, USB port, Internet Explorer 6
Mac: OS X v10.6,OS X Lion, OS X Mountain Lion; Intel® Core™ Processor; 1 GB available hard disk space; CD-ROM/DVD or Internet; USB
Acoustics:
Acoustic Power Emissions: 6.4 B(A) (printing 6 ppm)
Acoustic Pressure Emissions: 51 dB(A) (printing 6 ppm)
Power:
Power Supply Required: 100-240V (±10%), 50/60Hz (±3Hz)
Power Supply Type: Built-in Universal Power Supply
Power Consumption: 13.07 watts (Printing), 2.51 watts (Ready), 0.7 watts (Sleep), 0.2 watts (Off)
(Sleep)
Dimensions:
17.52 x 13.15 x 4.72 in
Maximum: 17.5 x 23.94 x 15.35 in
Weight:
12.32 lbs
Note: Printers come with HP Recertified Ink Cartridges
In the box:
HP ENVY 4500 e-All-In-One Wireless Printer
HP 61 Black Ink Cartridge (recertified)
HP 61 Tri-Color Ink Cartridge (recertified)
Power Cord
Specs
Specifications:
AIO Functions:
Print, scan, copy, photo
Print Technology:
HP Thermal Inkjet
Standard Printer Languages:
HP PCL 3 GUI
Print Speed:
ISO Speed: Up to 8.8 ppm black, Up to 5.2 ppm color;
Draft Speed: Up to 21 ppm black, Up to 17 ppm color
Print Resolution:
Black (Best): Up to 1200 x 600 rendered dpi (when printing from a
computer);
Color (Best): Up to 4800 x 1200 optimized dpi color (when printing
from a computer on selected HP photo papers and 1200 input dpi)
Mobile Printing Capability:
Features wireless direct and local Wi-Fi connectivity to enable mobile printing via HP ePrint, Apple AirPrint™ as well as other solutions. Supports printing from most smartphones and tablets using these operating systems: Android, iOS, Blackberry, Symbian, Windows 8, Windows RT
HP Auto Wireless Connect:
Yes
Number of Print Cartridges:
2 (1 black, 1 Tri-color [cyan, magenta, yellow])
Compatible Ink Types:
Dye-based (color); Pigment-based (black)
Replacement Ink Cartridges:

HP 61 Black Ink Cartridge (190 pages)
HP 61 Tri-color Ink Cartridge (165 pages)
HP 61XL Black Ink Cartridge (480 pages)
HP 61XL Tri-color Ink Cartridge (330 pages).

Memory:
32MB DDR1
Processor Speed:
360MHz
Duplex Print Options:
Automatic (standard)
Borderless Printing:
Yes (up to 8.5 x 11 in, 216 x 297 mm)
Direct Print Supported:
Wireless direct printing
Duty Cycle (monthly):
Up to 1000 pages
RMPV:
Up to 300 to 400 pages
Scan Type:
Flatbed
Scan Technology:
Contact Image Sensor (CIS)
Scan Resolution:
Hardware: Up to 1200 x 2400 dpi
Optical: Up to 2400 x 2400 dpi
Scan Size Minimum:
8.5 x 11 in (216 x 297 mm)
Scan Input Modes:
Front-panel scan, front-panel copy, HP scan software
Scan File Format:
JPG, TIF, PDF, BMP, PNG
Twain Version:
Version 1.9
Bit Depth/Grayscale Levels:
24-bit/256
Copy Speed:
ISO Speeds: Up to 6 cpm black; Up to 4 cpm color
Normal Speeds (letter): Up to 6 cpm black; Up to 4 cpm color
Copy Resolution:
Black (Text and Graphics): Up to 600 x 600dpi
Color (Text and Graphics): Up to 600 x 1200 dpi
Max Number of Copies:
Up to 20 copies
Copier Reduce and Enlarge:
25 to 400%
Copier Settings:
Start Black Copy; Start Color Copy; Number of copies, 2-sided; Paper type; Resize; ID Card Copy; Lighter/Darker
Standard Connectivity:
USB 2.0, Wi-Fi 802 b/g/n
Wireless Capability:
Yes
Mobile Printing Capability:
Features wireless direct and local Wi-Fi connectivity to enable mobile printing via HP ePrint, Apple AirPrint™ as well as other solutions. Supports printing from most smartphones and tablets using these operating systems: Android, iOS, Blackberry, Symbian, Windows 8, Windows RT.
Digital Sending Standard Features:
Scan to email [via printer control app]; From software: Scan to file; Scan to email
Media Types Supported:
Paper (photo, inkjet, plain), envelopes, transparencies, labels, cards, the HP premium media, iron-on transfers, borderless media
Media Sizes Custom:
3 x 5 to 8.5 x 14 in
Media Weight Rec:
16 lb to 24 lb
Paper Handling:
Input capacity: Up to 100 sheets, Up to 100 sheets legal, Up to 40 cards, Up to 40 sheets transparencies, Up to 10 envelopes, Up to 30 sheets (4 x 6 Photo)
Output capacity: 30-sheet output tray, Up to 30 sheets legal, Up to 5 envelopes, Up to 10 sheets photo paper
Display:
2.0" (5-cm) Hi-Res Mono LCD
Compatible Operating Systems:
Windows 8, Windows 7, Windows Vista, Windows XP (Service Pack 3) or higher (32-bit only); Mac OS X v 10.6, v10.7, Lion, Mountain Lion
Minimum System Requirements:
PC: Windows 10, 8.1, 8, 7: 1 GHz 32-bit (x86) or 64-bit (x64) processor, 2 GB available hard disk space, CD-ROM/DVD drive or Internet connection, USB port, Internet Explorer. Windows Vista: 800 MHz 32-bit (x86) or 64-bit (x64) processor, 2 GB available hard disk space, CD-ROM/DVD drive or Internet connection, USB port, Internet Explorer. Windows XP SP3 or higher (32-bit only): any Intel® Pentium® II, Celeron® or 233 MHz compatible processor, 750 MB available hard disk space, CD-ROM/DVD drive or Internet connection, USB port, Internet Explorer 6
Mac: OS X v10.6,OS X Lion, OS X Mountain Lion; Intel® Core™ Processor; 1 GB available hard disk space; CD-ROM/DVD or Internet; USB
Acoustics:
Acoustic Power Emissions: 6.4 B(A) (printing 6 ppm)
Acoustic Pressure Emissions: 51 dB(A) (printing 6 ppm)
Power:
Power Supply Required: 100-240V (±10%), 50/60Hz (±3Hz)
Power Supply Type: Built-in Universal Power Supply
Power Consumption: 13.07 watts (Printing), 2.51 watts (Ready), 0.7 watts (Sleep), 0.2 watts (Off)
(Sleep)
Dimensions:
17.52 x 13.15 x 4.72 in
Maximum: 17.5 x 23.94 x 15.35 in
Weight:
12.32 lbs
Note: Printers come with HP Recertified Ink Cartridges
In the box:
HP ENVY 4500 e-All-In-One Wireless Printer
HP 61 Black Ink Cartridge (recertified)
HP 61 Tri-Color Ink Cartridge (recertified)
Power Cord
Sales Stats
Speed to First Woot:

1m 58.553s
Purchaser Experience
15%

first woot

10%

second woot

28%

< 10 woots

21%

< 25 woots

25%

≥ 25 woots
Purchaser Seniority
8%

joined today

1%

one week old

2%

one month old

14%

one year old

75%

> one year old
Percentage of Sales Per Hour
| | | | | | | | | | | | | | | | | | | | | | | | |
| --- | --- | --- | --- | --- | --- | --- | --- | --- | --- | --- | --- | --- | --- | --- | --- | --- | --- | --- | --- | --- | --- | --- | --- |
| | | | | | | | | | | | | | | | | | | | | | | | |
| 12 | 1 | 2 | 3 | 4 | 5 | 6 | 7 | 8 | 9 | 10 | 11 | 12 | 1 | 2 | 3 | 4 | 5 | 6 | 7 | 8 | 9 | 10 | 11 |
Woots by State
zero wooters wooting
lots of wooters wooting