Panasonic KX-TG234SK Panasonic 4-Handset DECT 6.0 Expandable Digital Cordless Phone System
Limit 3 per customer
Hurry only 1 left!
In the abyss of Black Friday, we cannot hear ourselves scream. In the pitch darkness, we cannot see what hunts us. Without light, there is only dark. In the dark, there are no friends only enemies. All is gone. All is lost. So, heck, why not take advantage of our LOWEST PRICES OF THE YEAR!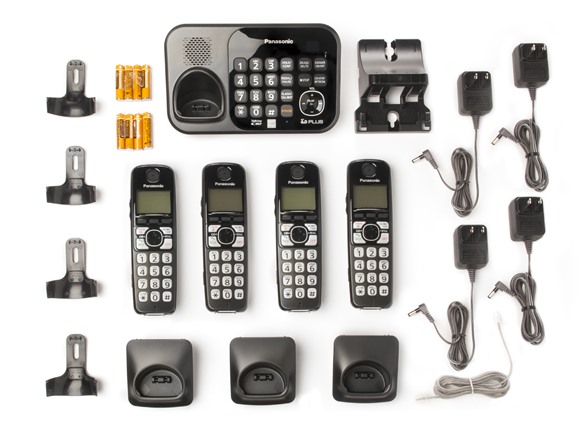 Features
The Panasonic KX-TG234SK expandable, digital, cordless telephone features DECT 6.0 Plus technology. Aside from the outstanding range and voice clarity provided to you via the DECT 6.0 technology, this phone also carries a digital answering system. With Panasonic text-to-speech technology the caller ID information is announced once the phone rings. The silent mode feature turns off the handset ringer when needed. The cordless phone system with 4 Handsets is designed to simplify the way you make and receive calls with the large LED light, 1.8" LCD screen, big buttons and simplified keypad layout.
DECT 6.0 Plus technology
Takes the superb sound quality and outstanding range of DECT 6.0 phones to a whole new level. The phone also offers a talking alarm clock and a talking battery alert that lets you know the low battery status. The call block feature lets you store unwanted callers and the light-up indicator with range alert flashes for an incoming call or new message. For additional convenience the KX-TG234SK offers up to 3-way conferencing and intercom facility.
Talking Caller ID
Hear who's calling from across the room. Panasonic phones featuring Talking Caller ID announce caller ID information in between rings so you don't have to stop what you're doing to answer unwanted calls.
Designed for Ease of Use
Innovative, user-friendly features make keeping in touch easier than ever. A large LED light atop the handset lets you know when someone calls, perfect for when you can't hear the ringer, and an easy-to-read, extra-wide LCD display lets you see who's calling at a glance. Bigger buttons make dialing a breeze while an amplified handset volume ensures you catch every word, even when there's background noise.
Intelligent Eco Mode
This feature automatically lowers the power consumption when you're using the handset close to the base unit. Not only does it extend the available talk time, it's good for the environment. When less power is used by the handset to communicate with the base unit, battery life is prolonged which results in less frequent charging and can result in fewer batteries in landfills.
Tone Equalizer
Everyone hears differently. To maximize clarity or accommodate hearing loss, Panasonic added Tone Equalizer control. This exclusive feature actually lets you adjust bass, mid-range or treble tones in a caller's voice for maximum clarity.
Call Block
Store the Caller ID info of any and all unwanted callers into your phone's Call Block list so that you can eliminate future pesky calls from them. After their information is stored, they'll get a busy signal if they call you again.

Shipping Note: Eligible for shipping to all 50 states

Warranty: 1 Year Panasonic
Specs
General Specifications:
Frequency/System:
1.9GHz / DECT 6.0
Number of Channels:
60
Max Number of Handsets:
6 (4 included in package)
Compatible Handset Model:
TGA470
LCD Language:
English / Spanish
Call Block:
Call Block (30)
Silent Mode:
Yes
Light-Up Indicator (Ringer/Charge):
Yes
Ringer ID:
Yes (Category Ringer)
Menu Operation:
Yes
Intelligent Eco Mode:
Yes
Tone Equalizer:
Yes (High/Low Tone)
Caller ID / Memory:
Yes / 50 Items
Call Waiting Caller ID:
Yes
Talking Caller ID:
Yes
Voice Mail:
Yes
Voice Mail Alert (Light-Up Indicator):
Yes
Chain Dial:
Yes (Handset)
Handset Functions:
LCD:
1.8 inch, Full Dot Mono, 103x65 pixels
LCD Backlight Color:
White
Lighted Handset Keypad:
Amber
Ringer Volume:
7 + OFF
Redial Memory (Handset):
5
Hold:
Yes
Mute:
Yes
Receiver Volume (Talk Volume):
5-Step
Intercom (Handset to Base):
Yes
Intercom (Handset to Handset):
Yes
Conference Call with Outside Line:
Up to 4-Way (H/S-H/S-H/S-LINE or
H/S-H/S-BS-LINE)
Clock / Alarm:
Yes / Yes
Battery:
Rechargeable Ni-MH Batteries (AAA x 2)
Talk Time:
13 Hours (max, Eco mode on)
Standby Time:
11 days (max)
Charge Time:
7 hours
Headset Jack:
Yes
Base Functions:
Dial Keypad:
Yes
LCD:
7SEG 2 Digits LED
Phonebook Memory (Name & Number):
70 items (16char/24digits)
Redial Memory:
1
Handset Locator:
Yes
Ringer Volume:
6-Step + OFF
Wall Mountable:
Yes
Answering System:
Yes
Total Recording Time (ICM + GM + Memo):
~18 minutes
Message Alert (Light-Up Indicator):
Yes
Speaker Volume:
8-Step + OFF
Remote Operation from Handset / Outside Line (DTMF):
Yes / Yes
Call Screening:
BS&HS (On)
Weight & Dimensions:
Base Dimensions (HxWxL):
Approx. 2.8" x 7.9" x 4.7"
Handset Dimensions (HxWxL):
Approx. 6.9" x 2.2" x 1.4"
Charger Dimensions (HxWxL):
Approx. 1.7" x 2.9" x 3.0"
Base Weight:
Approx. 12.4 oz
In the box:
Panasonic KX-TG234SK Panasonic 4-Handset DECT 6.0 Expandable Digital Cordless Phone System, includes--
(1) Base Station
(4) Handsets
(4) Belt Clips
(3) Charging Stations
(8) Rechargeable Ni-MH AAA Batteries
(4) Power Adapters
(1) Wall Mount Bracket
(1) Phone Line Cable
Specs
General Specifications:
Frequency/System:
1.9GHz / DECT 6.0
Number of Channels:
60
Max Number of Handsets:
6 (4 included in package)
Compatible Handset Model:
TGA470
LCD Language:
English / Spanish
Call Block:
Call Block (30)
Silent Mode:
Yes
Light-Up Indicator (Ringer/Charge):
Yes
Ringer ID:
Yes (Category Ringer)
Menu Operation:
Yes
Intelligent Eco Mode:
Yes
Tone Equalizer:
Yes (High/Low Tone)
Caller ID / Memory:
Yes / 50 Items
Call Waiting Caller ID:
Yes
Talking Caller ID:
Yes
Voice Mail:
Yes
Voice Mail Alert (Light-Up Indicator):
Yes
Chain Dial:
Yes (Handset)
Handset Functions:
LCD:
1.8 inch, Full Dot Mono, 103x65 pixels
LCD Backlight Color:
White
Lighted Handset Keypad:
Amber
Ringer Volume:
7 + OFF
Redial Memory (Handset):
5
Hold:
Yes
Mute:
Yes
Receiver Volume (Talk Volume):
5-Step
Intercom (Handset to Base):
Yes
Intercom (Handset to Handset):
Yes
Conference Call with Outside Line:
Up to 4-Way (H/S-H/S-H/S-LINE or
H/S-H/S-BS-LINE)
Clock / Alarm:
Yes / Yes
Battery:
Rechargeable Ni-MH Batteries (AAA x 2)
Talk Time:
13 Hours (max, Eco mode on)
Standby Time:
11 days (max)
Charge Time:
7 hours
Headset Jack:
Yes
Base Functions:
Dial Keypad:
Yes
LCD:
7SEG 2 Digits LED
Phonebook Memory (Name & Number):
70 items (16char/24digits)
Redial Memory:
1
Handset Locator:
Yes
Ringer Volume:
6-Step + OFF
Wall Mountable:
Yes
Answering System:
Yes
Total Recording Time (ICM + GM + Memo):
~18 minutes
Message Alert (Light-Up Indicator):
Yes
Speaker Volume:
8-Step + OFF
Remote Operation from Handset / Outside Line (DTMF):
Yes / Yes
Call Screening:
BS&HS (On)
Weight & Dimensions:
Base Dimensions (HxWxL):
Approx. 2.8" x 7.9" x 4.7"
Handset Dimensions (HxWxL):
Approx. 6.9" x 2.2" x 1.4"
Charger Dimensions (HxWxL):
Approx. 1.7" x 2.9" x 3.0"
Base Weight:
Approx. 12.4 oz
In the box:
Panasonic KX-TG234SK Panasonic 4-Handset DECT 6.0 Expandable Digital Cordless Phone System, includes--
(1) Base Station
(4) Handsets
(4) Belt Clips
(3) Charging Stations
(8) Rechargeable Ni-MH AAA Batteries
(4) Power Adapters
(1) Wall Mount Bracket
(1) Phone Line Cable
Sales Stats
Speed to First Woot:

2m 28.559s
Purchaser Experience
0%

first woot

10%

second woot

15%

< 10 woots

25%

< 25 woots

50%

≥ 25 woots
Purchaser Seniority
0%

joined today

0%

one week old

0%

one month old

10%

one year old

90%

> one year old
Quantity Breakdown
100%

bought 1

0%

bought 2

0%

bought 3
Percentage of Sales Per Hour
| | | | | | | | | | | | | | | | | | | | | | | | |
| --- | --- | --- | --- | --- | --- | --- | --- | --- | --- | --- | --- | --- | --- | --- | --- | --- | --- | --- | --- | --- | --- | --- | --- |
| | | | | | | | | | | | | | | | | | | | | | | | |
| 12 | 1 | 2 | 3 | 4 | 5 | 6 | 7 | 8 | 9 | 10 | 11 | 12 | 1 | 2 | 3 | 4 | 5 | 6 | 7 | 8 | 9 | 10 | 11 |
Woots by State
zero wooters wooting
lots of wooters wooting