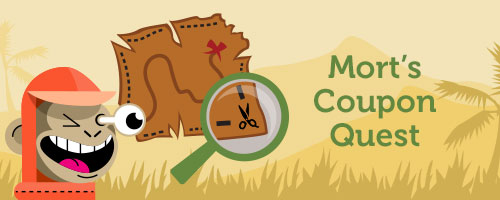 Here's the TL;DR version:
May 2 at 8:30am CST | Home Buyer Picks | $5 and $10 coupons | Hundreds of redemptions!
Mort's hiding 6 sets of coupon codes, some worth $5 and some worth $10. Each set will have a certain number of redemptions available. The first customers to find them and use them, get them!
So how can you best prepare to grab these coupons?
Be ready to use them! Find that thing you want, and put it in your cart before the magic time of 8:30am CST.
When the clock strikes, go search for them.
If you find one, head to checkout and put in the code to see if it works.
If it works, congrats! Take $5 or $10 off your order.
If it's already expired, sorry. But keep looking, because there are more than one each.
Want to share your good news or the location of the code? Do it on the thread below.
Don't just post the code. You worked hard to find it -- make other Wooters work too!
Good luck and happy questing!
THE DREADED FINE PRINT: Coupons are worth $5 or $10 each. Coupons must be applied at checkout. Coupons expire at 11:59pm CT on the day they are posted on site. Coupons cannot be applied to shipping charges. Coupons are NOT valid on Gourmet.Woot orders. Coupons cannot be combined with other offers. Coupons can be redeemed just once per customer – meaning if you use your $10 on an $8 product, you're not going to have a $2 coupon balance for your next order. Woot.com makes no claim on the proper pronunciation of "coupons."