Happy Music Monday! A good ol' fashioned beach party is a summer tradition. It doesn't even matter if you're in a landlocked state. Find some sand, pour out some water near it, and you've got all you need to beach party the day away while blasting all these tunes! Come on, every body! Let's make it happne!
The Jamies - Summertime, Summertime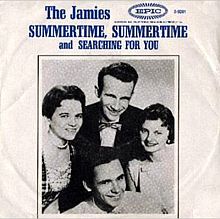 This lovely song is structured like a hymn. And in a way, it is! What kid doesn't know the feelings of finally reaching summer and having nothing to do for three whole months? If that's not a religious experience I don't know what is.
More beach party to come! Stay away from the undertow!